The Best way to predict Future is to Design it
ASMERO Green School certification program introduced in the year 2015 with the vision of promoting sustainable development of school infrastructure while promoting sustainability practices through technologies and academics to a child in a Green School. We plan and design green school campus which set an example in the society for energy conservation and importance for taking environment into consideration for any development and progression of society as well as economy. ASMERO Green School rating program envisions for inculcation of environment friendly measures and awareness through practices enabling teachers to incorporate elements into curriculum thereby creating an opportunity for our future generations to strike a balance with the nature.
Green School Certification Categories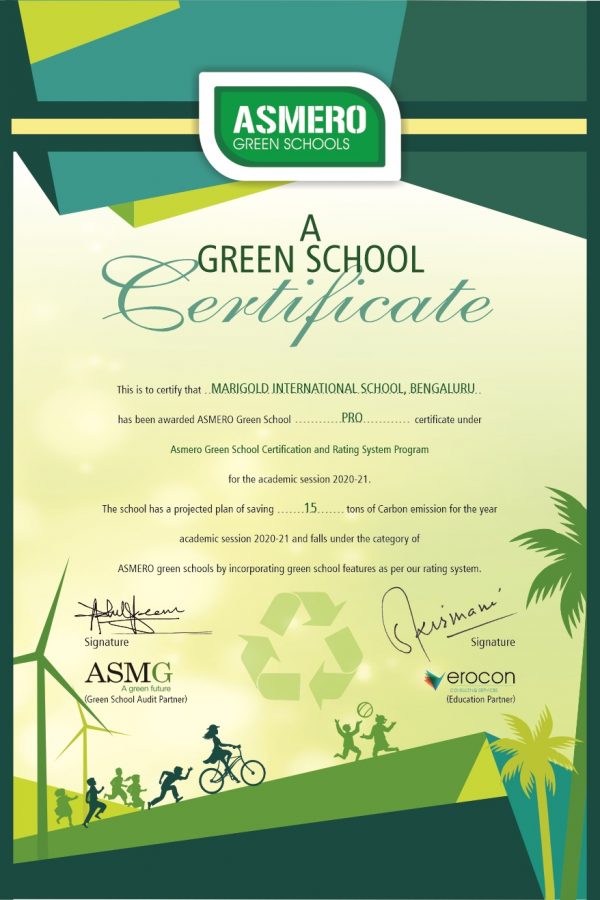 ASMERO Green School Rating systems criterion features
Green Campus Feature
Thermal Comfort and Ambient environment for Campus and Building Occupants
Energy Efficiency Prospects & Features
Sustainable Construction materials and practices
Sustainable Water management systems & Water conservation features
Indoor Health Environment
Green Curriculum
Green school is not only having green cover in the campus but development of the whole project taking into consideration the efficient performances of the building including all the equipment post commissioning.  A certification program is thereby used to promote and showcase the level of commitment the management of the school has shown to promote this initiative. In order to measure and justify the level of certification of the Green school, we have developed ASMERO Green School Rating stating specific performance criterion on the basis of which the building performance could be measured and the impact could be accordingly quantified. There are detailed criterion under broad green school features on the basis of which the level of certification could be judged and awarded.
Benefits of ASMERO Green Schools shall be
a) Development of a sustainable structure having features and systems to reduce the post operation costs by earning its cost back and shall be easy to maintain.
b) Independence from usage of already depleting non-renewable sources of energy by introducing renewable energy sources to reduce water and electricity consumption.
c) Stress more on incorporating Water Conservation and Electricity conservation measures.
d) Develop a healthy habitat and environment for students as features incorporating greener surroundings, better building ventilation, improved indoor environment that will eventually lead to better student performance.
e) Implement environment friendly renewable systems which shall be more of an asset development than liabilities as they will add onto your school revenue stream after earning its payback at relatively faster rates.
f) Develop curriculum and suggest extra-curricular activities taking into account the education on environmental aspects, solutions to utilize renewable energy systems to reduce dependency on non-renewable sources of energy.
g) Increase awareness amongst students on the future concerns related to environment which is a posing a threat to the existence of our civilization and the depleting nature of the non-renewable resources thereby laying foundation to development of generation that will be technology driven while taking into consideration the betterment of environment
h) Awareness amongst the community through students and reaching out to the parents.
i) Self sustaining/ self maintaining features/ structures
Our Service Area's
Compliance Audit to ASMERO Green Certification Rating systems
Gap Identification, Analysis and Assessment
Rating as per present provisions and awarding of certificate as achieved by the school
Solution, suggestions and recommendation to manage existing gaps
Techno Commercial Feasibility Study for conversion into ASMERO Green School
Budget Master Planning and Year wise conversion plan along with target certification approach